Regular price
$140.50 USD
Regular price
Sale price
$140.50 USD
Unit price
per
Sale
Sold out
Bloch introduces a new and exciting range of pointe shoes featuring groundbreaking innovation in a category virtually unchanged in over 120 years.
With the latest in stretch materials and multiple patents, these features combine to allow ultimate articulation of the foot and unparalleled connection between foot and shoe. One seamless, flawless line is now a reality.
The Eurostretch Stretch Pointe features:
• Patented European Balance-type last that provides ultimate support and function
• Unique stretch satin fabric which adheres to the foot like a second skin
• Split sole design that allows maximum stretch at the arch as the dancer moves from flat to pointe; never compromising the streamlined fit against the foot
• A firmer pasting method called 'A Paste' to withstand conditions of heat and humidity
• High and wide platform which encourages easy weight distribution while en pointe
• Low profile with elastic drawstring
• Leather grip at the heel to ensure non-slip off fit
• Cotton insert designed for easy ribbon and elastic stitching
Available Sizes
The Bloch Eurostretch Stretch Pointe Shoes are available in sizes 3.5-8, in widths of X-XXX.
Share
View full details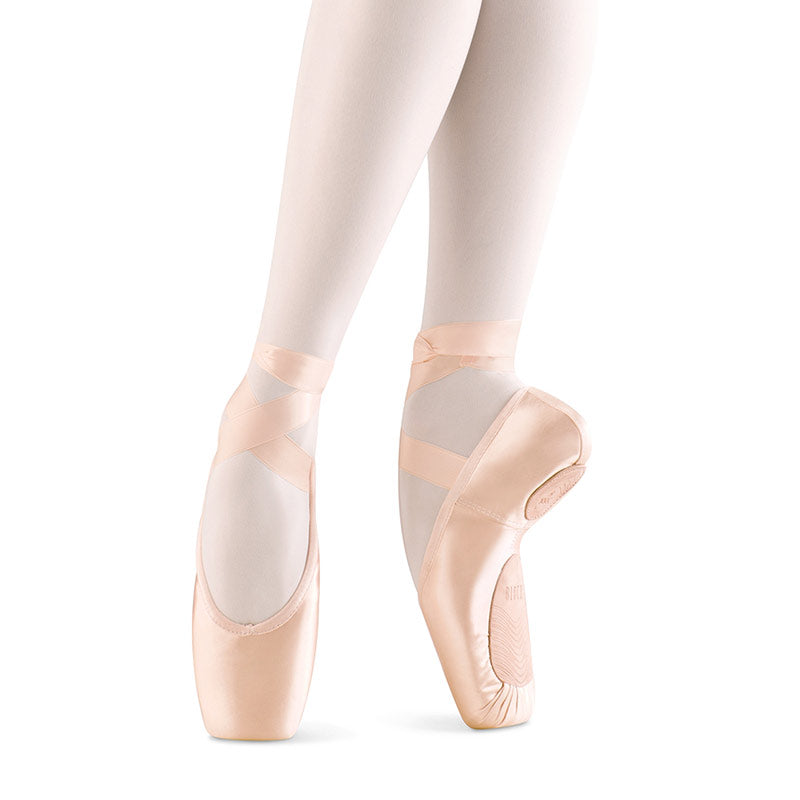 mom
My daughter just bought these shoes, and as soon as she put them on her feet she had a huge smile. She suffers from an ongoing ankle injury, which has been hindering her from fully getting over the box. These shoes gave her the support, comfort, and confidence she has been looking for. I don't know how they hold up, or how she will do in class, but after many different styles, she is a happy dancer.
Pretty good!
I have a low instep, tapered toes, and almost no arch to speak of. These shoes allow me to go all the way onto the box. I am not a youngster, either - been dancing for the better part of my aged life. I just do pointe for fun now. In any case, the only complaint I have is that the vamp is just a bit high. Although the way the shoe is constructed, it doesn't impede roll-through, it can make my metatarsal area just a bit sore.
I would love it if they made this shoe with a slightly shorter vamp. I wear a size 6.5x on one foot and xx on the other. OR a size 7x on the larger foot. What's nice is that I don't sink in these as I have in others.
I would recommend these for students with at least a year of pointe, who have relatively inflexible ankles, low arch, and low instep.
Best Pointe Shoes EVer
I've been dancing for a long time and these shoes have it all - in my opinion. Built in toe pads, suede heel to prevent slipping and best of all, the stretch satin - why hasn't anyone thought of THAT before? They are incredibly comfortable, they move with the foot and look great. They are brand new so I don't know how they will wear yet. I have arthritis in my right foot, and these will enable me to keep dancing!
Awesome!
I love these shoes! They solved a lot of problems that most of the other shoes I have had couldn't. They are very comfy and enjoyable to dance in. They hug my arch well and the width is good in my metatarsal area. My mom found them very easy to sew and calls them the Nike of pointe shoes. Definately my new favorite shoe!!!!!
love!
My daughter found these shoes locally a couple months ago and they are perfect for her feet. Unfortunately they are on back order and our local store can't get them. I scrambled to find a pair online and was happy to see that these arrived quickly.